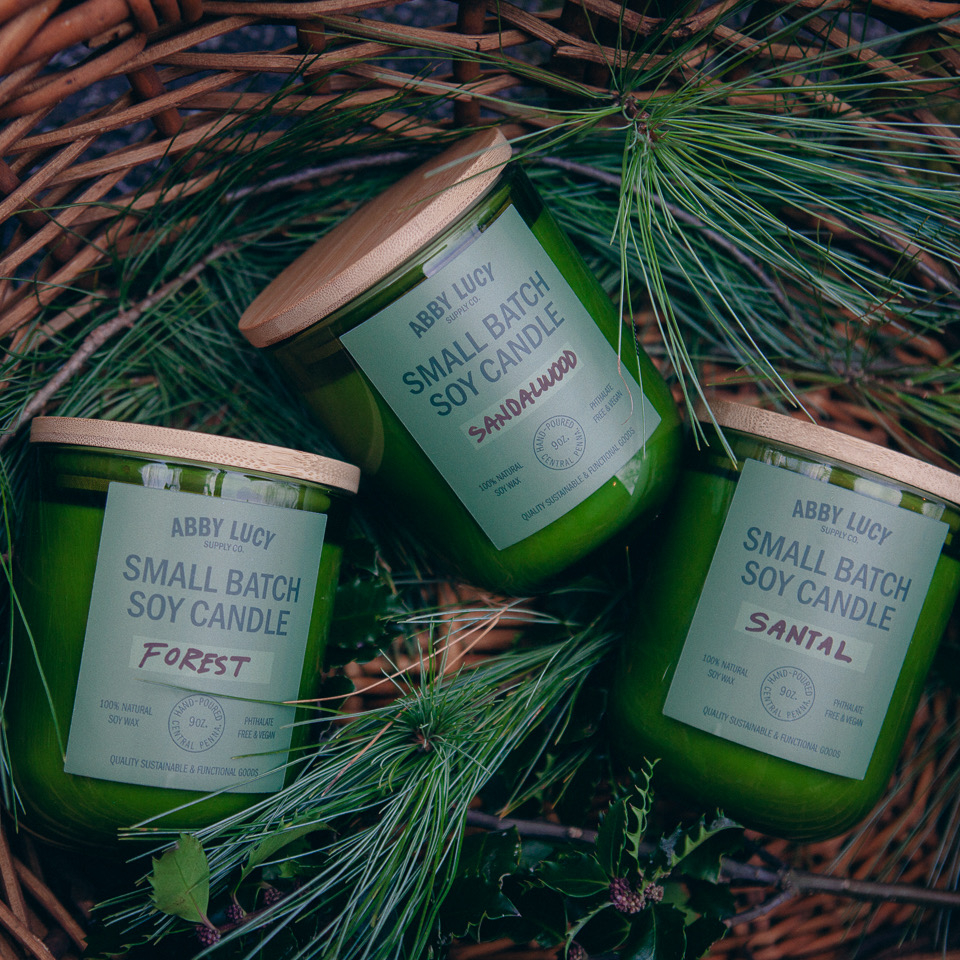 Abby Lucy Supply Co.
Contact: Emily Burns
City: Lemont, PA, 16851
Email Address: ecb5004@gmail.com
About Us
Emily has been a long-time supporter of local foods and Centre Markets.
In her creative studio overlooking bountiful gardens, it's easy to see her inspiration from the natural environment.
The fragrances are carefully and intentionally formulated to create a pleasing aroma oasis.
Her candles are beautifully presented in a rich green glass jar with a well-fitted bamboo lid. The labels are easily removable, allowing for easy re-purposing.

If you're looking to add to your candle collection, or for a perfect hostess gift—these candles are an easy choice!

Practices
Create an aroma oasis with our natural candles made free from harmful toxins or chemicals. We stand behind our promise to create handmade products using only the highest quality ingredients and fragrances.

• Made with 100% all-natural soy wax OR soy and coconut wax blend
• Hand-poured in small batches (right here in central PA!)
• Vegan
• No phthalates, zinc or carcinogenic dyes, and paraffin free
• Fill your home with relaxing aroma
• 50 Hours Burn Time
• Reusable jars with removable labels
• Beautifully designed and make lovely gifts!

Candle Tips
Burn in increments of 4 hours for best results. Trim wicks to 1/4" before each use.

The Perfect Gift! Our handmade scented candles come in beautifully designed and reusable glass jars. The labels are removable to make it easy to repurpose the jar.